HISTORY
The MUSTANG was introduced to the public on April 17, 1964 at the New York World's Fair. This was the spark of America's most cherished icons.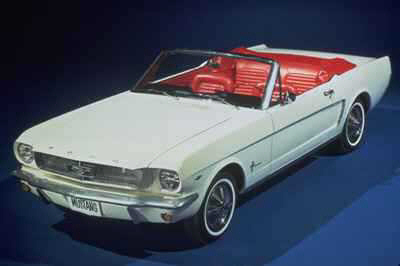 A similar 1964 1/2 Convertible Mustang appeared in the James Bond Movie Goldfinger. (This car was driven be Jill Masterson)
The base price was just under $2500 USD and over 22000 orders were taken on the first day. In the first 12 months, over 417,000 cars were sold. To put this in perspective, it out sold the 1990 best selling car in America, the Ford Taurus which sold just over 350,000 vehicles. This sparked the "Legend of the Mustang".
During this short model year (April to August), the Mustang was introduced in two body styles; Coupe & Convertible as seen below.
The 1964 Coupe

The 1964 Convertible
Both models were available with a 170 cid, 101 horsepower, 6 cylinder engine, a 260-2V, 164 horsepower V-8, a 289-4V, 210 horsepower V-8 and, starting in June, a fire breathing, 4 barrel, solid lifter, 271 horsepower, 289 cid V-8 engine. The buyer had a choice of a 3 speed, 4 speed or automatic transmission, and a variety of rear end gear ratios. The interior featured "wall-to-wall" carpeting, front bucket seats or an optional front bench seat, rear bench seat, a sports car style steering wheel, floor mounted shifter, and full headliner.
Progress through the history section of this web site to read and view the Mustang History unfold starting with the Pre-Mustang.
Number Of Visitors: